How to surrender director identification number?
Call Us Today +91 8000 57972
It is critical for holders of Director Identification Numbers who have never been a Director in any Company or Designated Partner in any LLP and have no plans to do so in the future to surrender their DIN. To surrender their DIN, the holder must fill out Form DIR-5, along with a declaration that they have never been appointed as a director in any company and the said DIN has never been used to file any documents with any authority. The government will verify the e-records before deactivating any DIN in such a case. Therefore, it can be deduced that if a person held a directorship in any company during their life using that DIN, it cannot be surrendered by filing an E-form DIR-5.
Purpose for Surrender of DIN:
An E-form DIR-5 can be filed for the purpose of surrendering a DIN, for any reason.
Having multiple Digital Identification Numbers (DIN)

The DIN was acquired in an illegal or deceitful manner.

Death of the concerned individual

A competent court has declared the concerned individual to be of unsound mind.

Concerned individual has been adjudicated as insolvent

Concerned individual is/was not associated with any company/LLP 
KMG CO LLP firm is an esteemed business platform and an innovative idea, providing complete incorporation, compliance advisory, and management consultancy services to customers in India and overseas. Surrender of DIN is simple, uninterrupted, most economical, and fast with KMG CO LLP firm! Moreover, KMG CO LLP firm also helps entrepreneurs with Public Limited Company Registration, Private Limited Company Registration,  LLP Registration, HUF, One Person Company, and all other regulatory necessities with ease.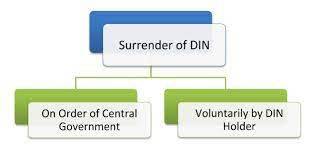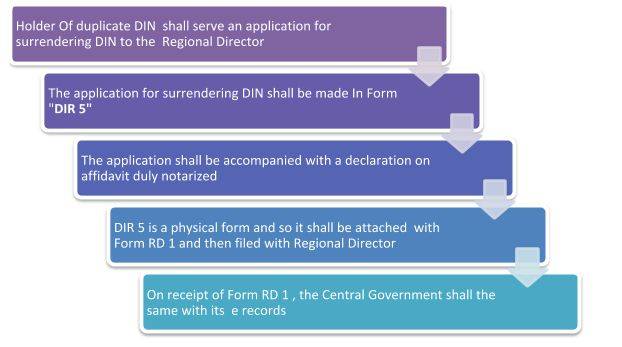 Documents Required for DIN surrender
Applicant must provide proof of identity, such as a Voters Identity Card, Passport, Driving License, or PAN Card.

Documentation to verify the residency of the applicant (an electricity bill or telephone bill) must be included and must be in the name of the applicant.

For Indian applicants, all documents must be no more than two months old from the time the eForm is submitted.

For international applicants, the address proof should not be more than one year old from the time the eForm is submitted.

An affidavit must be included, declaring that if the user wishes to keep any DIN, it will be updated with the associated CIN/LLPIN.
FAQS on DIN Surrender Services