One person company registration services
Call Us Today +91 8000 57972
We, at K M Gatecha & Co LLP, believe in providing best One person company registration services. We also also provide taxation, Investment, Government regulations and Investment planning. But even before providing any services we believe in assisting everyone in understanding and evaluating all the aspects of any service they need to avail. In the following page you will find all the information that you need to understand about One person company and its registration.
Simple steps for One person company registration services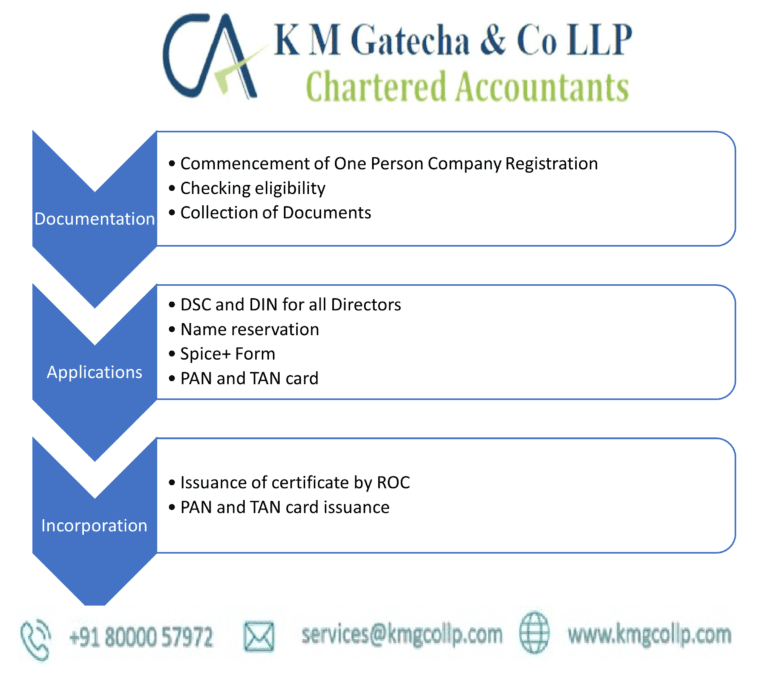 One person company registration services
One Person Company Registration services provided at K M Gatecha & Co LLP:
Experts advise regarding requirements and process,
DSC application,
DIN number application,
Collection of documents,
Filing of forms,
Attending to any queries raised,
Issuance of certificate of Incorporation
What is One Person Company (OPC)?
One Person Company is a concept which was introduces with the Company's Act, 2013, is a company formed by a single person.
Before 2013 a single person was not able to form a company,
It can be formed by one director and one member (both can be the same person),
It can we formed by a resident or non-resident Indian.
Documents for One person Company registration:
PAN card or Passport,
Passport for NRIs and foreign nationals,
Scanned copy of driver's license or voter's ID,
Gas or electricity invoice/bank statement/mobile or landline phone bill,
Specimen signature or thumb impression,
Passport size photo.
Documents required for One Person Company registered office:
Only commercial premises are allowed as a registered office or directors place of residence,
Current bank statement/phone or mobile invoice/gas or electricity bill invoice,
Rental agreement in English Language,
No objection certificate from property owner or property owner,
Property or sale deed if property is owned.
Process for One Company registration or incorporation:
Check eligibility and documents,
Apply for DSC and DIN for all directors,
Application for name reservation,
Filing of Spice+ form,
Apply for PAN and TAN card,
Issuance of certificate of incorporation by ROC,
Advantages of One Person Company:
One person company can be established by a single person. The only other possibility for a single person to open a business is sole-proprietorship firm,
Limited liability of the person setting up the One Person Company,
Can appoint a successor,
Can be listed as a private limited company and have market value,
Easier credit facilities,
Easier returns filing,
Disadvantages of One Person Company:
Tax rate is at flat 30% on all profits and there are no exemptions,
If turnover exceeds 2 crores for consecutive 3 financial years, then the OPC has to be converted to LLP or public limited company,
One person can only register 1 OPC,
So, a One Person Company is beneficial for a person who is looking to form a company having the benefits of an LLP or Private Limited Company but wants to form it alone.
We, at K M Gatecha & Co LLP, provide the best services for formation of a One Person Company in a hassle free and efficient manner. Our team of experts will guide you and manage the entire process of formation of the company.
We are known for providing  provides One person company registration services
FAQS on One person company registration services
Really best tax consultant in Ahmedabad. Very friendly and experienced staff ...
I really liked this firm for tax filing. Highly recommended to everyone.
Paramjeet Singh
May 12, 2022.
Such an awesome experience with this accounting firm in Ahmedabad.
Vivek Dahiya
May 12, 2022.
We are availing CA service for many years for filing tax, internal audit, reports etc....
Muskan Garg
May 12, 2022.
Very professional, friendly and experienced Chartered Accountant.
Muskan Sharma
May 12, 2022.
KM Gatecha & Co is really very one of the best accounting firm.
Pragya Arora
May 12, 2022.
It's very helpful to filing tax, GST, internal audit , statutory audit....
Naira Mehta
May 12, 2022.
Really best accounting firm for tax filing, internal audit, GST etc....
Shivani Arora
May 12, 2022.
I'm totally satisfied with their outstanding service.
Dinesh Miglani
May 12, 2022.
Very professional staff with extra knowledge and experienced...
Being the best ca firm in Ahmedabad we provide CA services all over India. We have our associates spread over many cities.
We as the best tax consultant in Ahmedabad, india provide tax consultancy including direct and indirect tax consultancy.
We provide bank audits, stock audits, forensic audits, statutory audits, concurrent audits, tax audits, internal audits, information system audit services.
We provide bookkeeping, accounting, tally accounting, zero accounting, quick book accounting, Zoho accounting services.
Our GST services include GST registration, GST payments, GST refunds services,e way bill consultant, GST return, GST classification, GST compliances, etc.
We as the most-trusted chartered accountant in Ahmedabad provide all chartered accountant services under one roof.
We provide tax accounting services for effective tax planning and making tax provisions.



We provide income tax audits, income tax return filing, corporate income tax services, etc.