Company Registration For NRIs In India Services​
Call Us Today +91 8000 57972
We, at K M Gatecha & Co LLP, provide our clients with all the Company Registration for NRIs in India services,taxation and investment services that are required, in an efficient and hassle-free manner with the help of our experience team of experts. We also believe in educating and informing the clients regarding all aspects of the services that they are looking to avail from a CA near them.
Company Registration For NRIs In India Services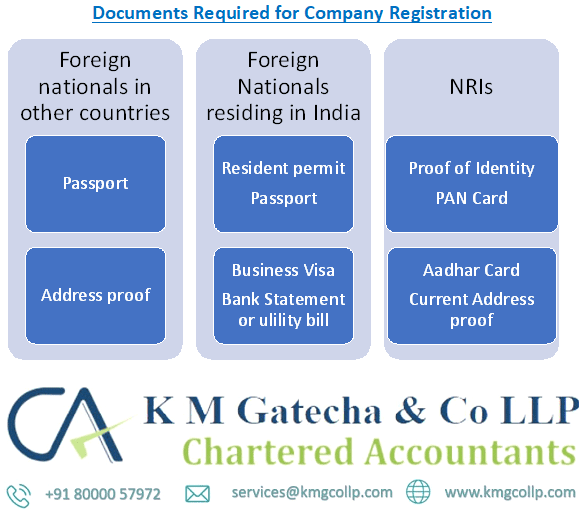 Company Registration For NRIs In India Services​
K M Gatecha & Co LLP is one of the leading CA firms in Ahmedabad providing the following services and tailor-made solutions to our clients: • Auditing services • GST registration, returns filing, audit, and refund services, • Accounting services, • Company registration, • Investment planning, • Project financing advisory, • International taxation certifications, • CA certifications, • Government rules and regulations compliance services, • And many more.
Company Registration for NRIs services provided by K M Gatecha & Co LLP:

Collection of required documents,
E-MOA and E-AOA drafting and filing,
Registration process,
Filing of documents and other forms,
Completing the registration process.

Can NRIs and Foreign National register Company in India:

Under Foreign Exchange Management ACT,1999 (FEMA), the Government of India has permitted NRIs and Foreign Nationals to invest in India to attract Foreign Direct Investments (FDIs).

NRIs and foreign nationals can register the following types of companies by availing our services of COMPANY REGISTRATION BY NRIS:

Private limited Company,

At least 7 investors are required as public limited company requires at least 7 members and can have unlimited shareholders.

Public Limited Company,

At least 2 members,
Can have maximum of 200 shareholders.

Limited Liability Partnership (under automatic route of FDI only in those sectors where 100% FDI is allowed).

Pre-requisites for registration of company by NRIs or Foreign Nationals:

Directors:

All the directors including NRIs and Foreign Nationals must obtain a DIN (Director Identification Number) and DSC (Digital Signature Certificate) to become director of an Indian Company.

Shareholders:

Minimum 2 shareholders for private limited company and 7 for public limited company.
Maximum of 200 share holders for private limited company.

Office:

There should be an office address for the proposed company before incorporation,
If office is owned then address proof such as sale deed is required, if the office is rented or leased then No Objection Certificate from owner and Rent agreement need to be submitted while filing for incorporation.

Documents Required for Company Registration by NRIs:

For foreign nationals residing in their home country:
For foreign nationals residing in India:

Resident permit
Passport
Business visa
Bank statement or and other utility bill less than 2 months old

For NRIs:

Proof of identity,
PAN card,
Aadhar Card, driving license, Voter ID if any,
Current Address proof.

All the documents need to be notarised by a public Notary in country of residence and apostilled by the Indian Embassy in foreign country.

 

Process of Company Registration by NRIs in India:
Company Registration For NRIs In India Services
Our GST services include GST registration, GST payments, GST refunds services,e way bill consultant, GST return, GST classification, GST compliances, etc.
We as the most-trusted chartered accountant in Ahmedabad provide all chartered accountant services under one roof.
We provide tax accounting services for effective tax planning and making tax provisions.



We provide income tax audits, income tax return filing, corporate income tax services, etc.
Company Registration For NRIs In India Services