Our clients are our foremost assets hence we always tend to provide customer centric tax compliance services. We deliver services keeping ourselves in their shoes and thus delivering what exactly client expects. Clients look for CA who understand all rules, regulations and Indian tax system and delivers best services. K M GATECHA & CO LLP has also team of experts professional blended with expert tax knowledge and diverse experience. We provide best tax audit services in Ahmedabad. As best CA in Ahmedabad our services includes accounting,company formation,tax filing, etc.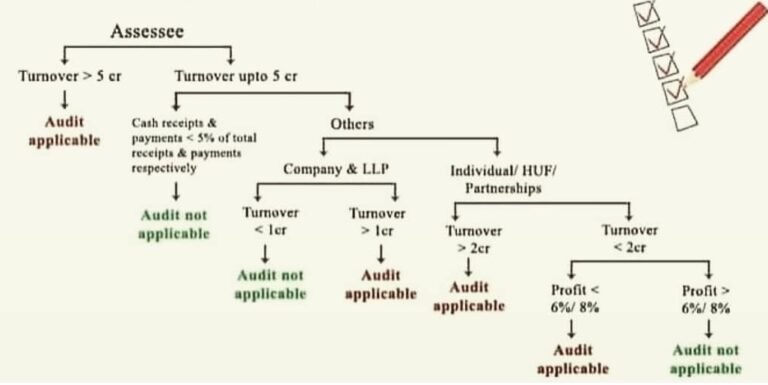 Best Tax Audit Services in Ahmedabad
What is the due date for filing income tax audit report for FY 2019-20?
Due date for filing income tax audit report for FY 2019-20 is 31/12/2020.
What is form for Income Tax Audit Report?
For assesses whose accounts are audited under any other law, tax audit report is prepared by auditor in form 3CA and annexure to audit report in form 3CD and for all other assesses tax audit report is prepared by auditor in form 3CB and annexure to audit report in form 3CD.
What if tax audit not done in time or what is penalty for tax audit?
Penalty for non filing of Tax audit report is lower of two from below as per section 271B:
1) 0.5% of the total sales, turnover, or gross receipt
2) Rs. 1,50,000
When tax audit is applicable?
1) When the annual gross turnover/receipts in business exceed Rs. 1 Crore.
2) Tax audit limit is Rs. 2 Crore for tax payer who has opted section 44AD.
3) From the financial year 2019-20 when aggregate of all the receipt and payments in cash of taxpayer does not exceed 5% of total receipt and payment during the previous year tax audit limit is Rs 5 Crore. 
We as leading chartered accountant in ahmedabad provide all chartered accountant services under one roof.
We provide income tax return filling, income tax audit, corporate income tax services, etc.


GST Consultant
Our GST services includes GST returns, GST registration, GST payments, GST refunds services, e way bill consultant, GST compliances, GST classification, etc.

Audit firm in Ahmedabad
We provide tax audit, bank audit, stock audit, forensic audit, concurrent audit, statutory audit, internal audit information system audit services.
We provide accounting, bookkeeping, tally accounting quick book accounting, zero accounting, zoho accounting services.
We as tax consultant in ahmedabad provide tax consultancy including direct and indirect tax consultancy.



Being top ca firm in ahmedabad we provide CA services all over India. We have our associates spread over many cities.


We provide tax accounting services for effective tax planning and making tax provisions.