IMPORT EXPORT CODE (IEC) REGISTRATION SERVICES
Call Us Today +91 8000 57972
At K. M. Gatecha & Co. LLP, we not only provide the best services for IMPORT EXPORT CODE (IEC) REGISTRATION SERVICES but also believe in helping our clients make an informed decision regarding the services they want to avail. That is why we explain to our clients, all the details and solve all your doubts and apprehensions regarding the services. All the companies currently want to expand and increase their business in one form or the other. There is no place for a company that stay stagnant or does not grow. One of the fastest methods of growth is to grow beyond borders and venture into other countries and thus serving a bigger market. Although it sounds very profitable and exciting prospect the reality of doing so is not so simple or straightforward. Expanding to other countries requires an organization to follow various laws and procedures that are in place and get registrations and license in the market they are going to expand into. Make this process hassle-free, simple, and straightforward, we at K. M. Gatecha & Co. LLP offer our expert and efficient services to our client for the purpose of Import Export Code registration.o We are well known for best IEC registration Ahmedabad.
IMPORT EXPORT CODE (IEC) REGISTRATION SERVICES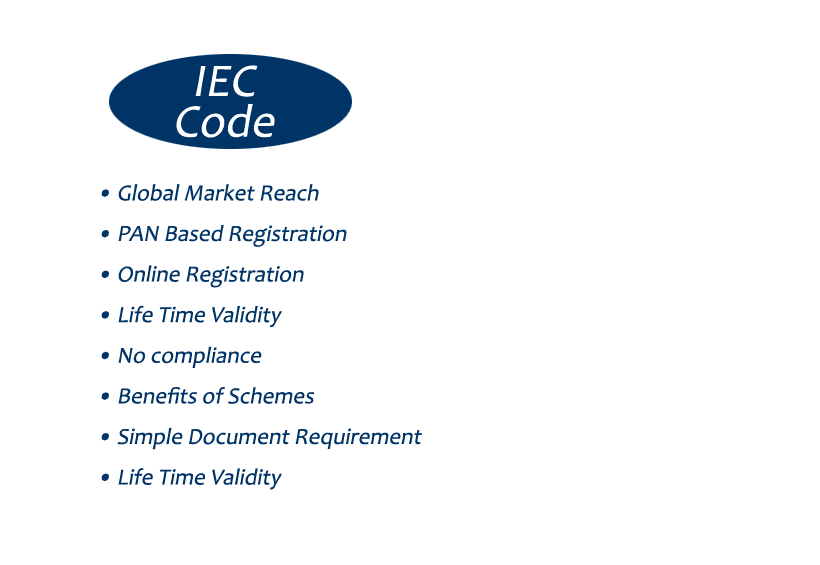 What is IMPORT EXPORT CODE (IEC) REGISTRATION SERVICES?
Import Export Code or commonly known as IEC is a prerequisite license required by any organization which is looking to expand into other market via import or export.
IMPORT EXPORT CODE (IEC) is issued by Director General of Foreign Trade (DGFT).
It is a 10-digit code which has a lifetime validity.
Who requires an Import Export Code (IEC)?
Any person who/company which is planning to import or export goods commercially requires the mandatory IEC,

Any commercial import/export is illegal without IEC.
Process of IEC Registration:
Filling up Application form,

Uploading Required Documents,

Filing the application form and paying the required fees,

Resolving any queries,

Final issuance of certificate/code by email.
When is IEC required?
IEC is required by customs authorities when importer must get his/her shipment cleared from customs.
When importer sends payment to other countries via banks at that time bank requires the IEC code.
Similarly, when an exporter sends his shipment to other countries the customs authorities require this code.
The banks also require this code to receive payments on exporter's behalf.
How to get Import Export Code?
Steps
Application form

The application form for an Import Export code needs to be prepared in a specific format prescribed by the DGFT.
After the application form is prepared then it needs to be submitted to regional office of Director General of Foreign Trade (DGFT)

Documents

Various documents are to be prepared according to the list prescribed by the DGFT.
This list includes

Identity proof,
Legal entity proof,
Address proof for the Entity,
Bank details,
Certificate in respect to Aayaat Niryaat Form ANF-2A.

Filing Application

Once the application is complete, the application is to be filed with DGFT with a DSC (Digital Signature Certificate)

IEC code is issued

If the above steps are completed and no queries are raised by DGFT then the IEC code is issued in a soft copy format by the Government.
Benefits of IEC registration
Expansion of business

IEC equips an organization to expand their business by enabling them to enter markets outside their home country.

Avail several benefits

The companies can avail of various benefits of their imports/exports from the DGFT, Export Promotion Council, and Customs etc. based on their IEC registration.

No returns need to file

IEC does not require any filing of returns.
After IEC is issued there are no procedures that need to be followed to sustain its validity.
Even for export transactions, no returns need to be filed with DGFT or IEC Ahmedabad.

No need for renewal

IEC code's validity is for a lifetime for the Entity that has acquired it and requires no renewal.

IEC code empowers a company to avail of benefits from various departments such as: –

Director of foreign trade

Exports Promotion Council,

Customs etc.
Still no Sure?
Contact K. M. Gatecha & Co. LLP for expert advice and assistance for Import Export Code registration.
Bijeesh Vijayan
January 16, 2023.
Good service. Always available for me. Thank you for your service.
DOCSAMD SEASTAR
January 2, 2023.
Very very experience person who is always ready to help you. I got good response from the team.
mukesh nathwani
November 3, 2022.
One of the best chartered accountant in Ahmedabad.
Krishna Ruparelia
October 13, 2022.
Very satisfied with prompt action and getting the work done before the deadline. Thank you 😊
Iqbal Desai
September 16, 2022.
Very good service provider specially ITR refund..
Abhinav Prasad
July 26, 2022.
Mr. Milap is a very humble person with deep understanding/knowledge of his subject and also he listen customer concern/requirement patiently. Really appreciate his help in filling the income tax return.
Noddy Vishwamitra
July 24, 2022.
Tax Filling done at great ease.I would recommend everyone to go with them if any service related to tax filling is required.
Swapnil Parmar
July 5, 2022.
Fast and efficient service, and warm welcome. Provides emergency services even on holidays.
Badgujar Tusharkumar
June 9, 2022.
K M GATECHA AND CO LLP is one of the chartered accountant for company registration in Ahmedabad,
FAQS-IMPORT EXPORT CODE (IEC) REGISTRATION SERVICES
Being the best ca firm in Ahmedabad we provide CA services all over India. We have our associates spread over many cities.
We as the best tax consultant in Ahmedabad, india provide tax consultancy including direct and indirect tax consultancy.
We provide income tax audits, income tax return filing, corporate income tax services, etc.
We as the most-trusted chartered accountant in Ahmedabad provide all chartered accountant services under one roof.
We provide tax accounting services for effective tax planning and making tax provisions.



We provide bookkeeping, accounting, tally accounting, zero accounting, quick book accounting, Zoho accounting services.
Our GST services include GST registration, GST payments, GST refunds services,e way bill consultant, GST return, GST classification, GST compliances, etc.
We provide bank audits, stock audits, forensic audits, statutory audits, concurrent audits, tax audits, internal audits, information system audit services.